LINE-X industrial coatinG SERVICES IN OTTAWA
Contact Us for pricing and professional installation
LIGHT AND MEDIUM INDUSTRIAL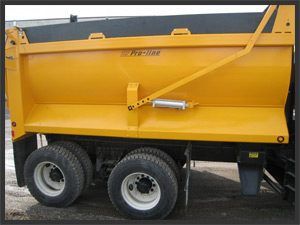 More Than Just Trucks.
LINE-X has a reputation for durability and long-lasting protection that goes far beyond the bedliner.
Here's a short list of potential applications using exclusively formulated LINE-X coatings:
Vehicle Aftermarket: Floorboards, van interiors, wheel well undercoatings, cargo areas, rocker panels, hood protectors, roll cages, bumpers, winch mounts.
Colour Matched Fiberglass Rock Guard Trailers: Boats, livestock, personal watercraft, ATVs, motorcycles, work trailers.
RVs/Motorhomes/Tow Trucks: RV roofs (insulation & water protection), nose masks on trailers and motorhomes, interior floors of "toy house" type trailers, etc.
Marine/Naval Applications: Boat hulls and decks, marine ramps, cargo holds, sea water and list-control tanks.
Manufacturing: Tanks, pumps, mixers, walkways, gratings, vents, ladders, floors and walls.
Red Line-X Coated Sides, Front & Hitch Agricultural: Farm machinery, silos, feed containers, storage tanks, fertilizer handling equipment.
Food Processing: Walk-in freezers and refrigerators, work tables, wet stations, floors and walls.
Sound Systems: Speaker boxes, concert equipment, sound studios, amplifiers and PA systems.
Blue Coated Wooden Letters Outdoor: Playground, park and golf course equipment, pond linings, dog runs, kennels.
General Construction: Retaining walls, roofs, masonry, foundations.
Mining/Petroleum Industry: Pipelines, platforms, storage areas, dump trucks.
Construction: decks, foundations, retaining walls, floors, roofs.
Marine applications: boat hulls, boat decks, marine ramps, cargo holds.
Custom Painted Styrofoam Sign Farming: silos, feed containers, storage tanks, etc.
Industrial: secondary containment, water tanks, floors, etc.
General Automotive: Jeep floorboards, Van interiors, wheel well undercoating, motorcycle fenders (underside), body panels as rock guard protection, etc.
LINE-X is rated #1 in customer satisfaction because it outperforms the competition in three ways:
It's the THICKEST of all spray-on applications.
It's NON-SKID surface holds loads better.
It will not tear or rip like other "softer" spray-on products.
LINE-X PROTECTS
LINE-X Protective Coatings are specialized, high-performance spray-on elastomeric coatings engineered for one purpose: to keep things going. Built on extensive product research and testing, LINE-X coatings ensure long-lasting, superior protection to virtually any surface they touch.
HIGH PERFORMANCE SOLUTIONS
All LINE-X products are tested for strength and stability both in the lab and in harsh, real world conditions to ensure the highest levels of durability. The result: a full line of multipurpose protective coatings engineered to defend against just about anything.
Protection to and from the Extreme
Rust prevention | Corrosion protection
LINE-X coatings are applied to create a single, impenetrable barrier to shield against nature's harshest elements, such as high humidity, salt water or extreme temperature changes.
Impact protection | Abrasion resistance
Through laboratory tests, LINE-X achieved excellent levels of abrasion and impact resistance, even outperforming carbon and stainless steel in severe-use conditions.
Slip resistance
Like the ridges in a fingerprint, LINE-X coatings are textured for grip. The texture on the surface of the coating provides traction for cargo, work boots and equipment.
UV stability
The aliphatic technology used in LINE-X protective coatings allows you to confidently safeguard structures and equipment from damaging UV light. Pigments used in aliphatic coatings do not break down with prolonged exposure to sunlight. Customize any coating to the colour of your choice and it will resist fading and dulling over time.
ADAPT TO SURVIVE
Because LINE-X Protective Coatings form permanent bonds at the molecular level, they have excellent adhesion to a wide variety of surfaces. Whether applied to metal, fiberglass, concrete, plastic or wood, LINE-X can absorb impact and resist damage by remaining both flexible and strong, without losing adhesion.
With ongoing innovations in aromatic and aliphatic elastomer technology, LINE-X has developed several products with special attributes ranging from thick film applications to secondary containment to coatings approved for incidental food contact. Many of our coatings comply with industry-specific regulations.
LINE-X PRODUCT CERTIFICATIONS
LINE-X® industrial coatings have been tested by:
International Organization for Standards (ISO 17025)
American Association for Laboratory Accreditation (A2LA)
USA Certifications:
Incidental Food Contact – FDA and USDA
Fungus Resistance Testing – MIL-STD-810 F, Method 508.5
Potable water per ANSI/NSF 61 Section 5
ASTM E-84 – 01 – Class A (Standard Methods of Test For Surface Burning Characteristics of Building Materials)
ASTM E-84 – 01 – Class B (Standard Methods of Test For Surface Burning Characteristics of Building Materials)
ASTM E-162 -06 – Flame Spread less than 25 (surface flammability of Materials Using Radiant Heat Energy Source)
ASTM E-662-06 – (Standard Test Method for Specific Optical Density of Smoke Generated by Solid Materials)
MSHA Approval & Certification Center (Mine Safety and Health Administration)
Suitability number MSHA – S30/00 – Non-Strength Enhancing Mine Sealant – Standard Application Procedure for Sealants Applied to Underground
Ventilation Controls
Acceptance number MSHA – CR-IC-249/1 – chute liner and cable reel – Standard Application Procedure for Acceptance of Flame-Resistance solid products
taken into mines
AFRL – Tyndall AFB
U.S. Army Corps of Engineers
EMRTC (Energetic Materials Research & Testing Center) New Mexico Institute of Mining and Technology)
H.P. White (Ballistic Testing)
International Certifications
Water Regulations Advisory Scheme – BS 6920 – UK
Certification of Conformity Food-Contact Material – UK
BS 476 Part 7:1997 Classified as Class 1 – Method of the surface spread of flame products
Versatile Coatings for Virtually Anything
Fire retardant
Potable water applications
USFDA approved
MSHA accepted
Long and fast cure times
Thick film applications
UV – Colour stable
Colour matching
Sound abatement
Vibration dampening
Anti-spall properties
Environmental protection
Vertical application
SOLVING COMPLEX PROBLEMS WITH CHEMISTRY
LINE-X combines specialized equipment with extensive product development to yield the right materials, products and procedures to meet virtually any demand. After decades of research, LINE-X has created a comprehensive coatings portfolio that includes polyurethanes, polyureas, polyaspartics, aliphatic and hybrid coatings.
Each coating differs at a molecular level resulting in distinct physical characteristics that are ideal for certain applications and industries. Tensile strength, elongation, hardness and UV stability are all factors that influence performance, function and product lifespan.
Science of Our Strength
No VOCs, 100% solids
Fast-cure time, can be sprayed vertically and overhead without dripping
Heated to 120-140 degrees
Tensile strengths up to 6,600 psi
Seamless, water tight application
UV stable technology