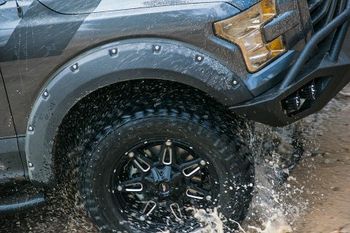 INNOVATIVE COATING FOR VEHICLES & MORE
LINE-X ULTRA is a thin build, spray-on coating that looks great and protects virtually any part of your car, truck, Jeep or SUV. LINE-X ULTRA is an ideal custom coating for rocker panels, fender flares, Jeeps, complete exteriors (LINE-X Body Armour) and other automotive uses.
UNIQUE, DURABLE, ARMOR-LIKE
SMOOTH, SLIGHTLY TEXTURED FINISH
RESISTANT TO FADING AND UV DAMAGE
STRONGER, TOUGHER THAN AUTOMOTIVE PAINT
SCRATCH AND DENT RESISTANT
ENDLESS COLOR OPTIONS
ADDS MINIMAL WEIGHT
REPAIRABLE
UNIQUE VEHICLE PROTECTION
Because LINE-X ULTRA can be sprayed thinner than standard elastomer coatings, it can be sprayed onto areas with tight clearances or where weight is a factor.
PERFECT FOR LINE-X BODY AMOUR APPLICATIONS
SMOOTH, SLIGHTLY TEXTURED FINISH
BEAUTIFUL PROTECTION FOR JEEPS AND ATVS
SPRAY DOOR JAMBS, ACCENT STRIPES, TAILGATE
COMPETES WITH PAINT AND POWDER COAT